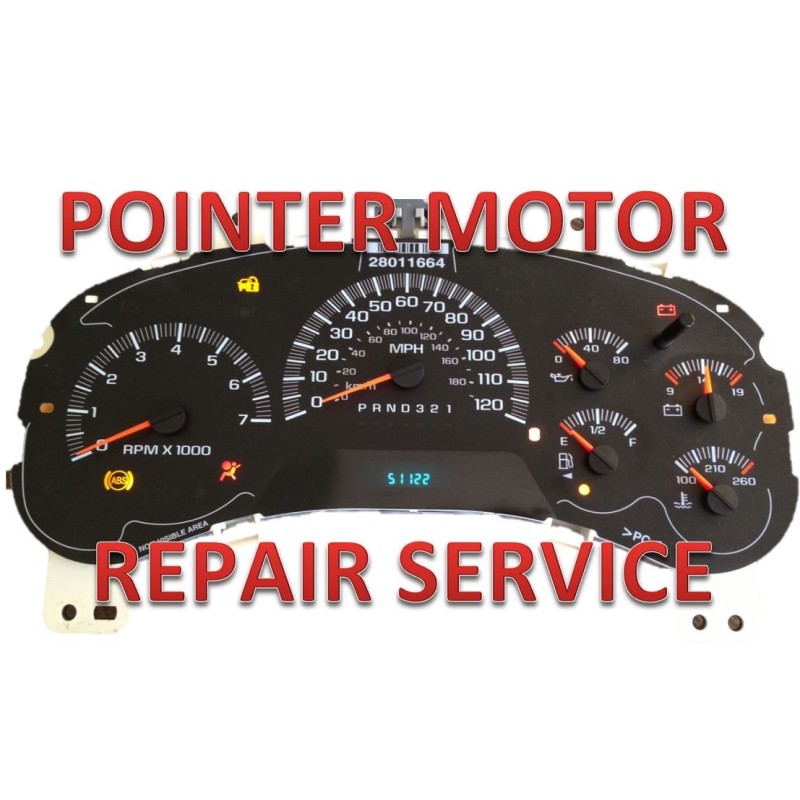  
Stepper Motor Repair Service for GM Chevy instrument clusters
Stepper Motor Repair Service for GMC Cadillac Chevy Instrument Clusters
Cluster Gauge Repair service for GM Chevrolet Instrument cluster (IPC - stands for instrument panel cluster).
You should go with that repair service if your gauges are sticking, shuttering and not working correctly or the backlight is not working.
We do provide 2 levels of service for those clusters - Basic and Full Rebuild. If you would like us only to replace the stepper motors and backlight bulbs please choose Basic service. If your cluster is experiencing other problems, like intermittent power issue, PRND display dim/dark, language scrolling problem - please choose Full Rebuld
We are using OEM Seitec/Juken stepper motors for the repair.
BTW, there is an option to upgrade the backlight to LEDs for $20 extra. Usually we have in stock white and purple/blue LEDs. There are 2 main benefits for the LED upgrade
1) Lifetime of the LEDs is much longer than lifetime of the regular incandescent bulb
2) The working temperature of the LED is much lower than regular bulbs temperature, therefore it save the components around them from overheating.
One more thing - It looks cool, but it is just the matter of the taste, so we do not count it as a benefit.
Contact us @ 1-800-PIXL-FIX if you want us to upgrade the backlight.
But let's get back to stepper (pointer) motor repair service. We do provide limited lifetime warranty for the pointer motors. It is valid as long as you own the car.
Vehicles affected:
Buick:
2003-2006 LeSabre
Cadillac:
2003 - 2006 Escalade
Chevrolet:
2007 - 2013 Silverado 1500, 2500, 3500
2003 - 2006 Silverado 1500, 2500, 3500
2007 Silverado Classic 1500, 2500, 3500
2003 - 2006 Silverado SS
2003 - 2006 Tahoe
2007 - 2013 Tahoe
2003 - 2006 Suburban
2007 - 2013 Suburban
2003 - 2006 Avalanche
2007 - 2013 Avalanche
2002 - 2009 Trailblazer
2003 - 2007 Trailblazer SS
GMC:
2003 - 2006 Sierra 1500, 2500, 3500
2003 - 2006 Sierra Denali
2007 - 2013 Sierra Denali
2003 - 2006 Yukon, Denali
2007 - 2013 Yukon, Denali
2003 - 2009 Envoy, Denali
Hummer:
2003 - 2006 Hummer H2
..and others with similar clusters
Common questions from our customers - what is the turnaround time for the service?
Answer: in most cases if we receive the item by noon we are able to repair it and ship it back on the same day. In the worst case scenario we ship it back on the next business day. The rest depends only on return shipping service that customer is choosing during the checkout and what kind of shipping service customer is choosing to get the to us.
No customer reviews for the moment.