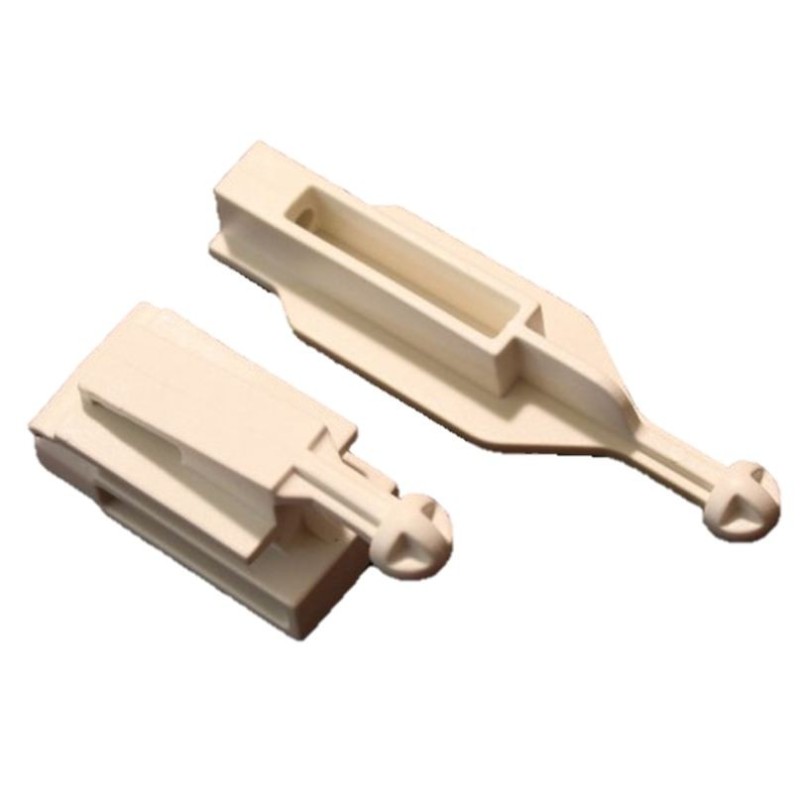  
BMW E39 Angel Eyes Headlight Adjusters (2000-2003)
Headlight Adjusters for 5 Series BMW E39 "Hella Angel Eyes" (2000-2003)
Headlight Adjusters for BMW 5 series E39 (facelift 09.2000-2003) headlights with or without HID (xenon). Those headlights also been called "Angel Eyes" headlights.

This kit contains the two plastic headlight adjuster mountings which often break within the E39's headlights. BMW do not sell these parts separately and you would be required to buy a complete headlight. This kit enables you to repair the lights and save hundreds or even thousand if you need to repair both headlights.
When these adjusters are broken the headlights beam bounce and often point downwards resulting in poor visibility at night or it points to oncoming traffic therefore blinding it. It is a very common fault.
This kit includes the two parts shown in the photo and is enough to repair one headlight. Most of the E39 owners doesn't realize, that the original adjusters are broken. There is very simple test:
1) Open the hood
2) Find the low beam bulb and try to wiggle it up and down and left and right. If it wiggles in any direction freely - adjusters are broken. If it is tight - adjusters are good.
We also sell the adjuster mountings for the pre-facelift E39 (1996-08.2000) headlights. Please see our other products (type BMWE39HAPF into the searchbox).
This set of headlight adjusters will fit ALL BMW E39 5-series from 1996 to 08.2000 with original Hella headlights. It will not fit if you have any aftermarket headlights even if they look similar to OEM headlights.
Please note that we do offer adjusters installation service in your headlights without removing/unglueing the clear lens or cutting the housing of your headlights. The labor cost of installation is $60 per headlight. Please call us @ 1-800-PIXL-FIX for the details.
No customer reviews for the moment.
Customers who bought this product also bought: