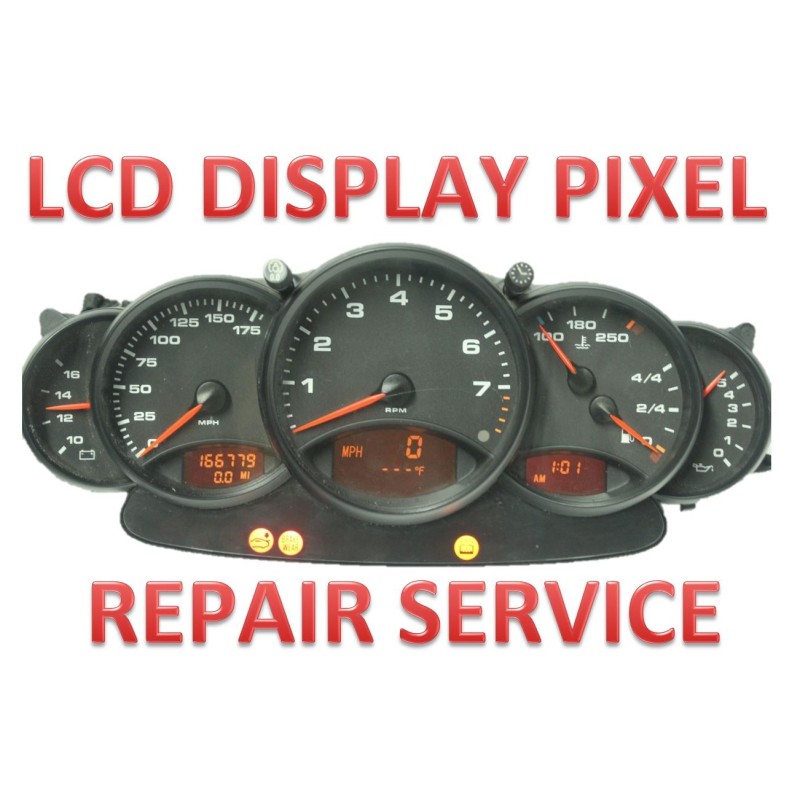  
Porsche 911 (996) Boxter (986) Instrument Cluster LCD Display Pixel Repair Service
Porsche 911 (996) Boxter (986) Instrument Cluster LCD Display Pixel Repair Service
Up for sale is not the actual instrument cluster but a repair service for your Porsche 911 (996 body style*) and Porsche Boxter (986 body style*) instrument panel cluster.
*- only for non dot-matrix displays (older style). Please refer to the main picture in the listing. Your cluster should have exactly same kind of the displays as shown!
Please read this disclaimer carefully:?
IF YOUR CLUSTER GOT THE "SPIDER WEB" EFFECT ON THE DISPLAYS - WE CAN FIX ONLY MIDDLE AND RIGHT DISPLAY. CURRENTLY NO AFTERMARKET LEFT SCREENS AVAILABLE FOR THIS CLUSTER! AS SOON AS THE LEFT SCREEN WILL BECOME AVAIBLABE WE'LL BE ABLE TO FIX "WEB" ON ALL THE DISPLAYS. IF YOU HAVE ANY QUESTIONS OR CONCERNS - FEEL FREE TO CONTACT US!?
It is very common for those cars when the instrument cluster display has missing pixels or have damage on the display which looks like the web.
With this repair service you will get the following:
- repair for the pixel problem, so you could read the information again.
Some FAQ:
1) Can I drive the vehicle without the cluster? - No, your vehicle can not be used without the cluster
2) What is the turn around time? - It depends on shipping mostly. In the worst case scenario we ship the cluster on the next business day, in the best case scenario on the same business day
3) How to get the cluster out? - Please check out this video - https://www.youtube.com/watch?v=ZZhIStnd3jU
4) Do I need to reprogram the cluster once I will get it back? - No, all the information stored in the cluster remains intact.
5) What is the warranty? - We do provide 12 months warranty for the pixel repair.
6) How do I go about purchasing the service? - The procedure is the following:
-You purchase this repair service
-You print out the receipt or order from your order history (if you did create an account) or from the confirmation email
-You carefully pack the cluster into the bubble cushion and packaging peanuts into appropriate size box (we recommend 18" x 12" x 8") and include your printout
-You ship your item to:
Best Pixel Repair
1544 Prickly Ln
Waxhaw, NC 28173
1(800)PIXL-FIX
Just to be clear - this listing is not for the cluster to sell, it is for the repair service to fix YOUR instrument cluster.
If you have any doubts or questions - please contact us @ 1-800-PIXL-FIX before you about to break anything :)
No customer reviews for the moment.