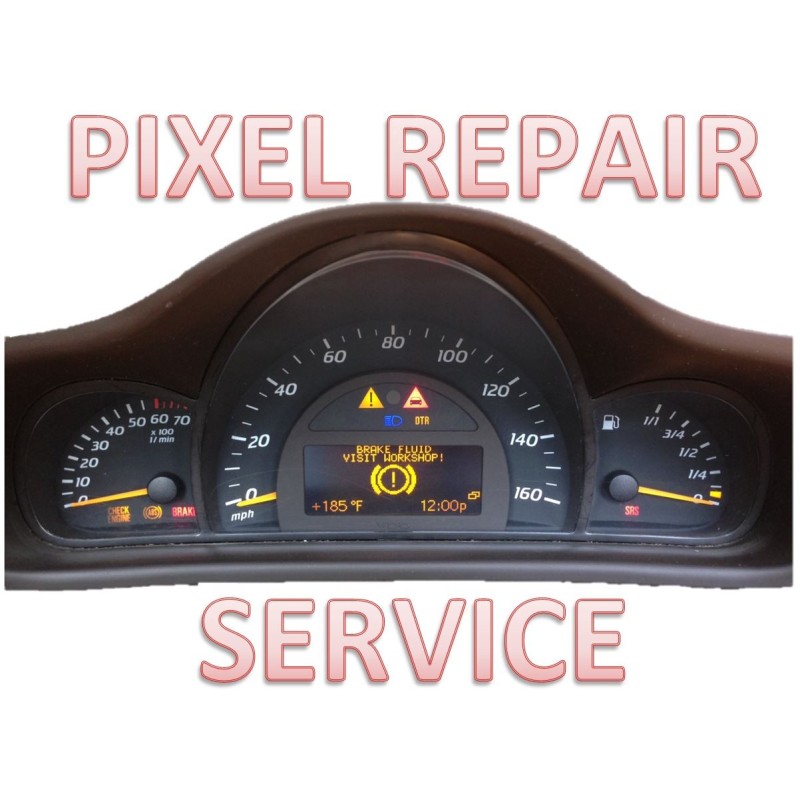  
Mercedes C-class W203 G-class W463 Instrument Cluster LCD Display Pixel Repair Service
Pixel Repair Service for Mercedes C-class W203 G-class W463 Instrument Cluster LCD Display
Our company offer pixel repair service for MERCEDES-BENZ C-class (W203), G-class (W463) Instrument cluster
Applicable for:
Mercedes C-class (W203) - 2001-2004
Mercedes G-class (W463) - pre-facelift
No Reprogramming or Recoding is needed. Your mileage, VIN number, immobilizer stays untouched.
Our service is covered with 12 months warranty. During all those years that we provide this service more than 1000 instrument clusters were fixed by us.
The problem of missing pixels probably most common for all above mentioned models. It is not only very frustrating to have an expensive car and being unable to see the mileage or information messages, but some states require mileage to be visible during the emission test.
Common questions from our customers - what is the turnaround time for the service?
Answer: in most cases if we receive the item by noon we are able to repair it and ship it back on the same day. In the worst case scenario we ship it back on the next business day. The rest depends only on return shipping service that customer is choosing during the checkout and what kind of shipping service customer is choosing to get the to us.
!!! WE DO NOT PROVIDE THE WARRANTY FOR THE UNITS, THAT HAS BEEN ALREADY ATTEMPTED TO BE REPAIRED !!!
If you have any doubts or questions - please contact us @ 1-800-PIXL-FIX before you about to break anything :)
No customer reviews for the moment.